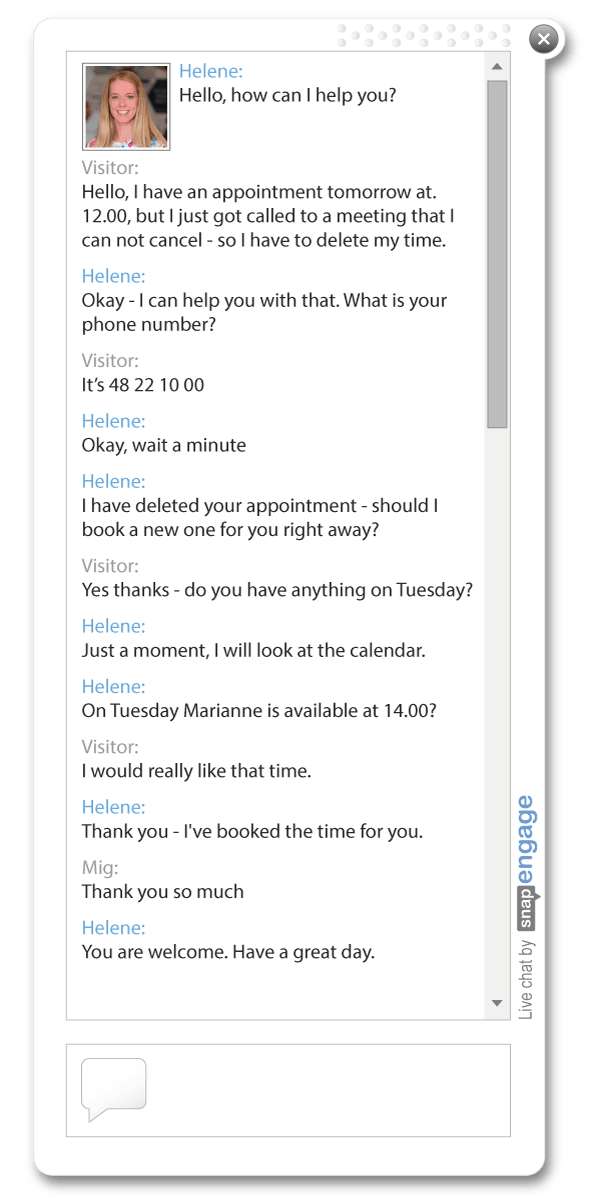 We chat to give you more customers
Helpful and informative guidance
Every time a new visitor comes to your website and says yes to chatting, we are ready at the keys. Happy and accommodating, we answer questions from your visitors and guide them in the direction of buying. Or to say yes to being contacted by you, to hear more. Personal, helpful and informative.
---
Two good reasons for choosing live chat
---
You get in touch with visitors, that you otherwise would have lost

Many of the potential customers that visit your web shop, never get to the point where they contact you by telephone or mail. Not because they don't want to hear more, but because they feel like it is too inconvenient and that it is committing if they make themselves known. On the other hand, there are more and more people who would like to chat, so they here and now, easy and conveniently can get an answer to exactly what they need.

Way more of your visitor send up being customers

When you give your visitors the opportunity to chat, it typically evokes their curiosity, and they stay for way longer on your website to hear more. And after a good and confidence building dialogue, most people would like to order from you immediately, or say yes to be called to hear more. This way the most of you visitors will become new customers, who are interested in buying.
---
Get to know more
This is how our cheerful live chat takes place
---
The chat window opens

Every time a new visitor clicks on to your website, they automatically gets a little chat-invitation from your company. It happens after 20 seconds, where one of our accommodating receptionists show up in a small chat window, on the visitors screen, as a natural part of your website. In the chat box your visitor is able to see a short message, such as "Hello, can I help you?" Along with a picture of our receptionist, who is chatting. Only when the visitor replies to the chat, the chat window will show up on our screen, and one of our talented receptionists dedicates themselves fully to the dialogue.

The customer gets answers to their questions

We chat helpfully with the visitor, and assist them by answering questions about your business or products, in a way that they will perceive you as a professional and trustworthy company. One customer may have specific questions about sizes, another one about delivering time, and a third one about what other product variants there are available in the web shop. All of this we will help with, from the instructions we have received from you.

We ask about the customers contact information

In the end, when the visitor has become familiar with our receptionist, we suggest that you call the visitor to tell more, and we ask about their name and contact information, that way you are able to contact them afterwards. Unless of course they already get all the details needed from us, and placed an order.

You receive a mail

After every chat, you receive the whole dialogue on mail.
---
The chat message only activates the first time the visitor clicks on to your website. If a visitor doesn't answer the chat, they won't receive further chat messages or windows on their screen, while they are visiting your website. The chat should for anything in the world not annoy your customers.
There is nothing better than being serviced by a real living human being.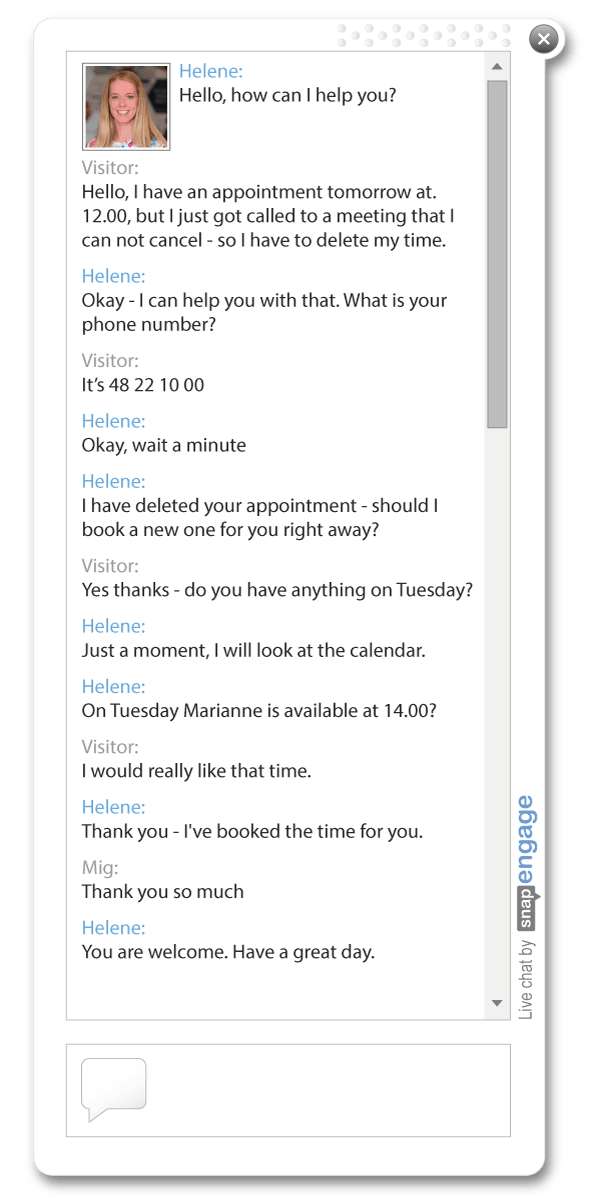 ---
Additional benefits with TopCalls live chat
---
High quality because we always thoroughly familiarize ourselves with every single customers specific wishes for the chat, and follow-up on, that we in practice do what we have agreed on. We continuously train our receptionists, who man the chat, to write good and precise messages, both as chat messages and as feedback on phone calls. In the cheerful and helpful way, that gradually has become our trademark.
Low, attractive prices because we already have a set up in place, with skilled receptionists, who man the live chats for many other customers. And because they also take care of telephones, and provide customer service at the same time. The whole idea is that our experience and economies of scale will also do our new customers well. Together with our positive and cheerful ways of being.
---
It is this easy to get started
---
You fill out the little formula, which you will find at the top right on this page, or you click one of the orange icons. Send the formula to us, and you will hear from within a couple of days.

We will call you and ask questions about your company, products and about what information you want us to give your customers. We also listen to your specific wishes for the live chat, so we make sure at you are pleased with our cooperation to the full extend. At the same time, we till you more about how it all works. If it fits you better, or we believe that a more thorough talk is necessary, we are more than happy to come by and talk to you instead.

We send you a small script, which you need to put on the front page of your website, so that the chat window can pop up, every time there is a new visitor. We use the very simple and user-friendly chat-program SnapEngage, because it works impeccably and doesn't give any trouble for neither you nor us.

Now you are started and you can at any time contact us with questions or wishes for changes.

After 14 days we will call you, to hear about the results you have reached and if there is anything, you would like changed in our way of chatting with your customers
---
Live chat
Price ex. tax
8 DKK pr. Chat minute (min. 400 DKK/month)
The price is usually way less, than what you make on the chat.
Experiences from our customers
Get a customer case sent if you would like to read more about how we handle the customer service for one of your many happy customers. Including how they experience the changes in their everyday.
Fill out the form below:
The customers expect the best service
"Here at n'age we have an exclusive clientele, who expect the best service, when they call to book an appointment, or to hear more about our treatments.
We have found that at TopCall, who is our external reception, all while they take care of our calendar for all of the employees in all 3 departments."
Ida Bille Brahe, N'age
---
Read more customer statements
---
TopCall Opening Hours
Monday to Friday 8-18 : Saturday 9-16 : Sunday 10 - 16